The Official Smashcake® Store
Chocolate Pinatas by Kylene Lovat
Welcome to Smashcake

The Original Home of Chocolate Pinatas Designed For Destruction

In 2009 Sydney mum, Kylene Lovat, registered the business name Smashcake & then introduced her novel concept of smashing chocolate pinatas, designed to look like real cakes ("SMASH CAKES") to the kids & families at her children's day care centre-St Judes, Randwick, Sydney.

Kylene's Smash cakes were an instant hit & Smashcake soon became a popular brand around the Eastern Suburbs of Sydney . 6 months later Kylene decided to take her unique products online & opened up the world's first online Smashcake store in 2010 selling a range of hand crafted pinatas designed to look like cakes!

Now delivering her hugely popular Smash Cakes Sydney wide, Kylene spends her time immersed in chocolate & would not have it any other way.

When you order with Kylene you can be guaranteed that your Smash Cake will be passionately & sweetly hand-made by the girl behind the genuine & Original Smashcake® brand.
Our Blogs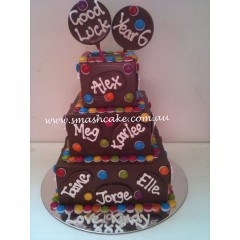 Are you a graduating Class of 2016 or are you about to SMASH the HSC? We've been maki...
Read more