The Official Smashcake® Store
Chocolate Pinatas by Kylene Lovat
Welcome to Smashcake
Home of Chocolate Pinatas- Designed For Destruction

In 2009, Coogee based Sydney mum, Kylene Lovat, registered the business name Smashcake & then introduced her novel concept of chocolate pinatas, designed to look like real cakes ("SMASH CAKES") to the kids & families at her children's day care centre-St Judes, Randwick, Sydney.

Kylene's Smash cakes were an instant hit & Smashcake soon became a popular brand around the Eastern Suburbs of Sydney . 6 months later Kylene decided to take her unique products online & opened up the world's first online Smashcake store in 2010 selling a range of hand crafted pinatas designed to look like cakes!

Now delivering her hugely popular Chocolate Smash Cakes Sydney wide, Kylene spends her time immersed in chocolate & would not have it any other way.
Whether you're after a heart smashcake, soccer ball smashcake, be my bridesmaid smashcake, Wedding Smashcake, gender reveal smashcake, custom designed Smashcake, corporate smash cakes or an over the top chocolate Smashcake, Kylene has it covered! She prides herself on her unique creative designs & reputation as the industry innovator & leader. Kylene is always looking to take things to the next level and has had requests to train staff in her craft, across Australia and the world.

When you order your Smashcake with Kylene you can be guaranteed that your Smash Cake will be passionately & hand-made by the girl behind the genuine & Original Smashcake® brand.
Our Blogs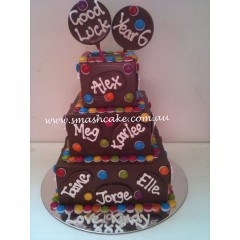 Are you a graduating Class of 2016 or are you about to SMASH the HSC? We've been maki...
Read more