Welcome to the The Original Smashcake Brand
Home of Chocolate Pinatas
Designed For Destruction!
Based in Coogee & delivering across Sydney, Smashcake is ready to create something special for your next celebration. Birthdays, engagements, weddings, baby showers and gender reveals, corporate events, special occasions or 'just because', your guests will be wowed by Smashcake's creations… but not for long, as they are Designed for destruction!

If you can dream it, Smashcake will theme it!
Are you ready to get smashing? Order your Smashcake today.
The Original SmashCake by Kylene
Our Smashcake founder, Kylene, was inspired by the magic of "Charlie & The Chocolate Factory" at the tender age of 8. Since then, it's been all about chocolate as she became a chocolatier, building a reputation and years of experience working desserts at iconic kitchens and winning awards at competitions for her chocolate creations
Then, in 2009, Kylene saw a market opportunity and founded the original Smashcake in Sydney. Since then, her chocolate pinata smash cakes have delighted people across Sydney. Smashcake even witnessed a full-circle moment when Kylene created smash cakes for the Charlie & The Chocolate Factory brand. Kylene has proudly been recognised and awarded Australian Small Business Champion for Smashcake.
She's shared her pinata smash cakes to celebrate with thousands of happy customers and many well-known brands, expanding her offerings to include custom smash cakes, smash pizzas, smash chat chocolate bars and themed smash cakes for Sydney weddings, corporate celebrations and Christmas and Easter events.
Be a smash hit with the original Smashcake in Sydney!
Have fun deciding on your next celebratory centrepiece or party giveaway with our wide selection of chocolate pinatas — whether it's for a birthday, gender reveal event or any other special occasion in Sydney, Smashcake will make sure you have a smashing good time you'll never forget!
Grab a limited spot and place an order for your chocolate pinata smash cake today! Contact us to discuss any particular design requirements or special requests. We can do order pickups or deliveries within the Sydney area with our Smashmobile.
Don't wait too long and enjoy an original smash cake creation with Smashcake — where childhood dreams transform into a delectable reality.
Our Blogs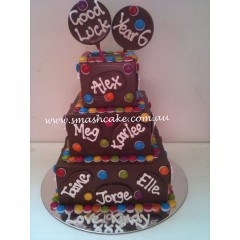 Are you a graduating Class of 2016 or are you about to SMASH the HSC? We've been maki...
Read more
FAQs
How do I place an order?
You can easily place an order through our online store or by contacting us directly. Give us the necessary details and let us know about any questions or special requests. We'll do our best to accommodate you and create the pinata smash cakes of your dreams!
Do you offer delivery services?
Yes, we do deliveries in the Sydney area with our Smashmobile! The delivery fee is calculated during the ordering process. Our friendly staff will deliver your smash cakes in Sydney safely and quickly.
What types of occasions do you cater to?
We can cater to any and all types of occasions! We've helped many people celebrate birthdays, weddings, corporate events and more in Sydney. At Smashcake, we offer many unique chocolate pinata designs you can easily customise for whichever occasion you want to celebrate in a fun and unique way.
Can I refund, cancel or modify my order?
We are unable to process refunds or exchanges once the goods have been received and signed for, so we ask that you make your selections thoughtfully during the order process.
If any design modifications are required, please contact us before ordering to discuss. We, unfortunately, cannot make changes once an order is placed and we have purchased the stock for your order/or if your pinata smash cake is already in production.