Welcome to the The Original Smashcake Brand
Home of Chocolate Pinatas
Designed For Destruction!
For 30 years, expert chocolatier Kylene Lovat has been creating chocolate masterpieces. Since 2010, Kylene has been creating handmade chocolate piñatas designed to look just like real cakes, when she opened up the world's first online Smashcake store! From her hugely popular, original dome-style smash cakes to custom-designed celebration cakes, Smashcake is always a smash hit.
Based in Coogee & dring across Sydney, Smashcake is ready to create something special for your next celebration. Birthdays, engagements, weddings, baby showers and gender reveals, corporate events, special occasions or 'just because', your guests will be wowed by Smashcake's creations… but not for long, as they are Designed for destruction!
Featuring original designs and handmade with love, Kylene's chocolate piñatas are not your cookie-cutter, run of the mill pinatas. Each Smashcake is a work of unique edible art – ready to be demolished and enjoyed with friends. And who doesn't love chocolate? Unicorns, soccer balls, conversation hearts, volcanoes, Christmas Smash Cakes, Easter Smash Cakes and dinosaurs – even a watermelon! – Smashcake has a theme to suit every occasion.


If you can dream it, Smashcake will theme it!
Are you ready to get smashing? Order your Smashcake today.
Our Blogs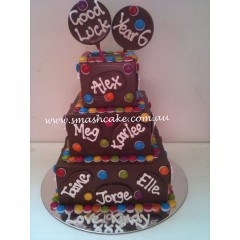 Are you a graduating Class of 2016 or are you about to SMASH the HSC? We've been maki...
Read more